Five Ways To Keep The Kids Dancing in These Unusual Times
Author: Marina Buscaino Date Posted:17 April 2020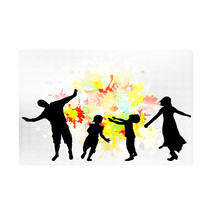 How to motivate kids to dance at home.
Five ways to keep the kids dancing in these unusual times.
How to motivate kids to dance at home.
These are unprecedented times and most kids have been at home for about four weeks now. Socialising has stopped, school has stopped, birthdays and movies have stopped. Dancing schools around the country have also closed, but luckily dancing is one of the great sports that can still continue. Here are some easy tips to keep the passion alive.
Tik Tok with them!

With this latest craze being so popular, join in and film Tik Toks together with the kids. It will be a great laugh and something the whole family can do.

Encourage the kids to go online.

Most dance schools are continuing classes online via Zoom or other video call platforms. Some schools even have links to fun workshops.
This is a great way to stay connected with teachers and friends.
Many online dance tutorials are available during the school holidays too and are free. The Australian Ballet is currently running free online ballet classes for all ages and levels. The classes are taught by a former dancer with the company. https://australianballet.com.au
Dance Parent 101 has links to free online classes. There are dance classes for all levels and different styles of dancing. The links take you to different YouTube classes with different dance teachers.

Grab the popcorn and become an audience for a show.

Dancers love performing, so encourage the kids to dress up, rehearse a little and put on a show for the adults in the house.
Film the kids and send it to family like Grandparents. Or online video call them.
You could even change it up and let the kids hear what your favourite music is. Maybe they could make up dances to Dancing Queen or Wake Me Up Before You Go Go.

Let them be social and hold an online dance party.

This is a great way for the kids to see their friends. Let them dress up, choose the music and dance an hour away.
Free online video platforms are available so they can connect with a big group of friends, talk, laugh, catch up and dance together to the same music.
Let them put dance costumes on or grab accessories such as tiaras and hats, do their hair and make up and they will feel special.

Encourage them to keep up their skills by practising.

Balance boards or turn boards are a great and fun way to learn or improve balancing and turning. Challenge them to increase the number of spins. www.flairdancewear.com.au/turn-board
Stretching and improving the splits will be a bonus when dance class finally resumes.
Keeping young minds and bodies active is very important and dance is a skill and passion that does not have to be let go while we are all isolated at home. Any space inside or outside, with the back of a chair for a barre will do. A little encouragement and your dancer will continue to shine.
---
Leave a comment